High West American Whiskey Dinner
On Wednesday, Oct 14th, High West Distillery master distiller David Perkins presented a tasting of High West Rye Whiskey at a special dinner pairing hosted by David Driscoll, the Spirtis Buyer for K & L Wines, at Alembic in San Francisco. The cost for the dinner was $100 + tax, inclusive.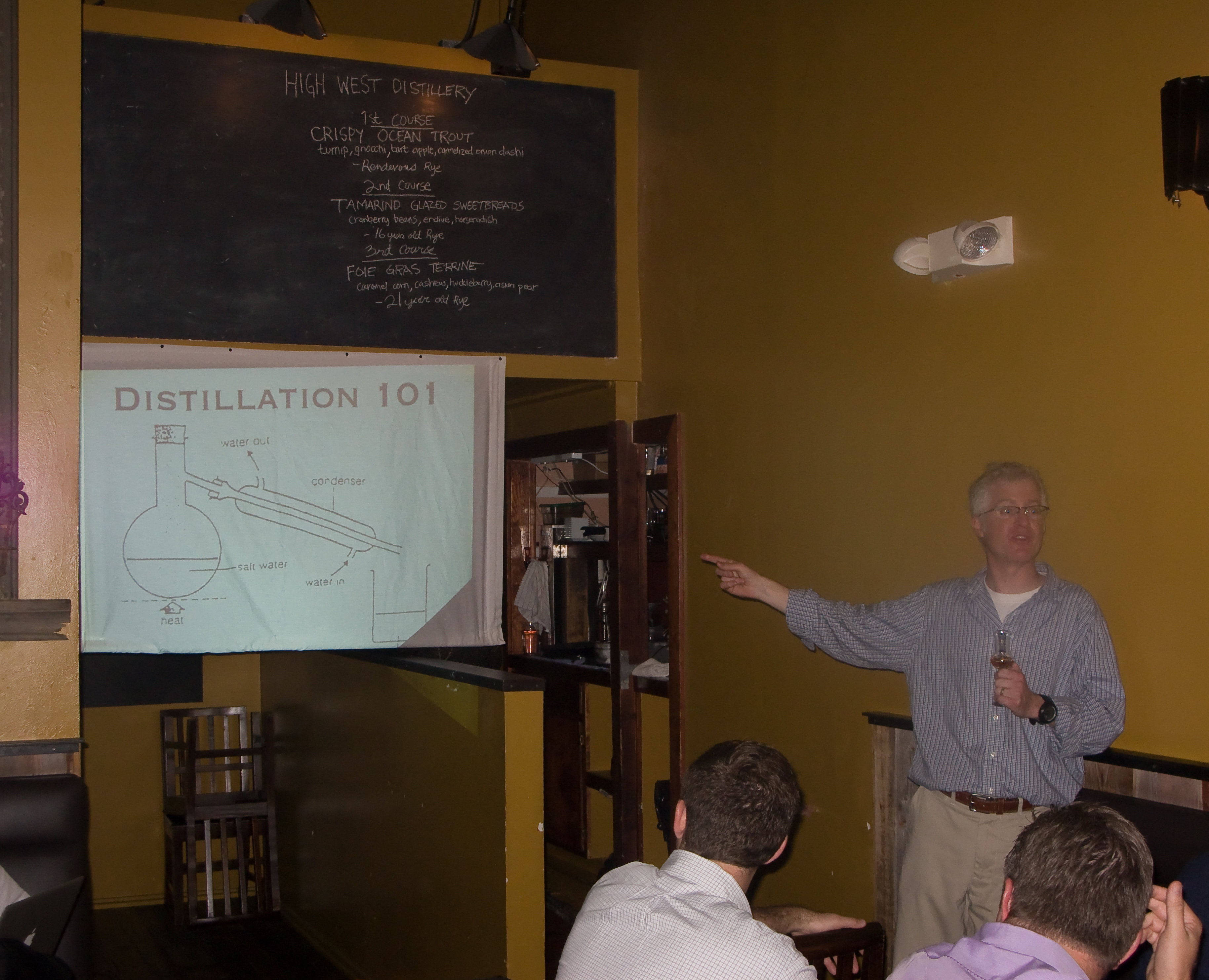 David Perkins is a chemist who worked for several bio-tech firms in the Bay Area before packing up to follow his dream of producing fine American whiskey. Between each course and pairing David gave a presentation that included the history of distillation, a bit of chemistry and some wonderfully opinionated  stories about his personal inspiration. The team at Alembic provided several small platings designed to pair with each rye whiskey David presented.
The first course was a delicious crispy ocean trout served over turnips, gnocchi, tart apple and carmelized onion dashi paired with High West Rendezvous Rye. Rendezvous Rye is a vatting of at least two different rye whiskies and carries no age statement. It's smooth and spicy.
The second course was tamarind glazed sweetbreads with cranberry beans, endive and horseradish paired with High West 16 year old Rye. I was surprised how much I enjoyed the sweetbreads. Good sweetbreads can be really good but anything less than excellence reminds one just a little too much of the offal from which they originate. This was a bold but successful move by Alembic. The High West 16 year old Rye complimented the minerality of the dish with the signature spice and christmas cake notes I've come to expect from High West but with a smoother more rounded flavor profile than the Rendezvous Rye.
The third course was a foie gras terrine with a bit of caramel corn, cashews, huckleberry and asian pear served with a pour of High West 21 year old Rye. This was probably the least successful paring of the evening. The 21 year old rye is a delicious drink, even smoother than the 16 year old, with a rich mouth feel and even more spice. For some reason the foie gras just didn't set the rye off like it should have. Perhaps the coating of fat from the terrine got in the way of my palate. The terrine itself was lackluster.
Desert was a brioche served family style at the table paired with the peach infused Vodka 7000. High West Distillery sits at 7000 feet above sea level, hence the moniker. While fruit infused vodka is not my usual cup of tea it did pair well with the brioche. The family style serving of a single slice of brioche ensured that each diner got only one bite.
Once dinner service concluded, David Perkins shared a few surprise distillates. I sampled some rye new make he calls White Dog and an experimental new make distilled from oatmeal that he poured at 110 proof. The oatmeal new make was deliciously complex and I'm looking forward to tasting how it ages in the barrel. Another surprise from High West is the upcoming "Bourye" whiskey, a vatting of bourbon and rye whiskies with a unique flavor profile that rolls over the mouth in three chapters. The initial taste is like a rich bourbon with notes of corn and sweetness which subsides after a moment into the characteristic High West spicy rye flavor followed by a dry woody finish that lingers on the tongue. It's an excellent beverage.
I learned a few things, drank some fine whiskey and ate some good food in good company. David Driscoll and David Perkins were great hosts.
Leave a Reply
You must be logged in to post a comment.